To create a product with a print-on-demand provider and your own design, you just need to follow these simple steps!
1. You will have to start by creating a new design! Whenever you want to create a new product with your own design, remember you have to create the design before the product.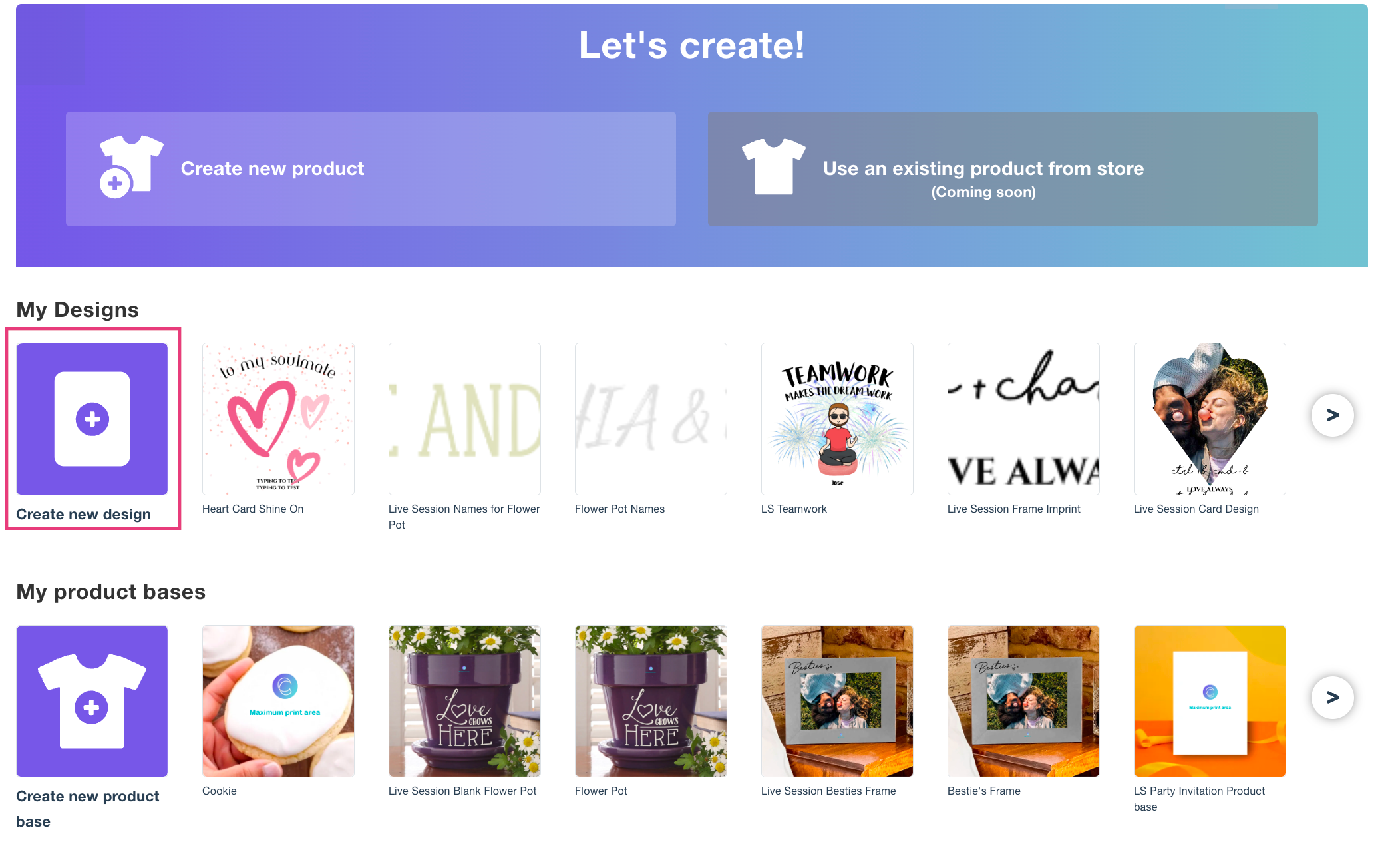 2. Once you click on create a new design it will take you to Customily's Design Studio.
3. Make sure to always save your designs with a unique name so you can tell them apart from others! Create your design and save it.
5. Once you save your design, go back to "Start" (The rocket) and now we can create a new product!
6. Click on "Create a new product"

7. Once you click there, it will show you all the available print-on-demand providers we offer! Click on the one you want to work with.
8. After choosing one, it will take you to the product selection page. Here you will choose the product you want to sell.
9. Once you select your product, it will ask you to choose the variants to offer (you always need to offer at least one variant! It won't let you move to the next screen until you select at least one).
10. Then you will have to click on "Pick from your Designs". There you will see your design library, you can either look at the design by the search bar or through the different pages!
11. After you choose the design you want to apply to the product, it will show a screen loading, the app is applying the design to the product! This can take a couple of minutes so be patient, magic is happening in the back end.
12. Finally, you will get to the final step. The product preview is where you will be able to see the finished product.
From here, you can do several things:
Play around with the personalization options as your customers will do to check how everything works.
Save a preview as the product image of your Shopify listing (recommended!)
Edit product details, such as title, description, and prices.
Edit the personalization options, such as the titles or the order of the different option sets. The option sets are generated automatically by Customily, but you can modify them if needed to improve the way your clients interact with the product!
Save the product as a draft.
Publish the product in your Shopify store!
Here is a video of how to create a product with a Print on Demand provider and your own design!
Share
Was this article helpful?
1 out of 3 found this helpful